A huge part of being successful is learning from your mistakes, however learning from other people's mistakes can help you on a fast track trajectory to success. Every aspiring entrepreneur should have a mentor they can look to for guidance and who can highlight the pitfalls of business in order to avoid making typical mistakes that waste time. Not everyone is lucky enough to know someone in the industry that they can rely on. Below are some of the top tips from successful entrepreneurs.
Keep Things Challenging
The best way to keep yourself motivated is to continually challenge yourself. Treat every day as a day for learning something new and trying new things. This will keep you interested and will also push you to be better.
Do Something You Care About
The only way that your career is going to be enjoyable and worthwhile is if you actually care about what you do. You will have less chance of becoming bored or fed up if your work focuses on something you believe in.
Take Risks
Every successful person in the world has taken not one but many big risks in order to get there. True success is not easy and sometimes things will fail however you will never know if you don't try.
Believe in Yourself
There is no point in pursuing a big dream if in your heart you feel you cannot do it. Of course everyone has moments of doubt, but deep down you need to truly believe you are capable. This will drive you forward even in the most difficult times.
Focus on Your Vision
Visualising your goal is very important to success. Keep your vision in mind all the time.
Choose the Right People
Who you choose to surround yourself with will have a huge effect on your success. It is important to have people around you who believe in what you do, who want you to succeed and want to succeed themselves. This frame of mind is positive and necessary in order to encourage each other and push each other forward.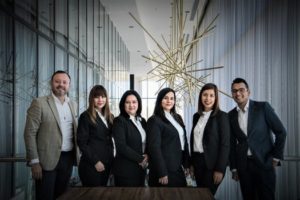 Overcome Your Fears
Being an entrepreneur is going to have you come face to face with a lot of scary circumstances and it isn't always easy to overcome that fear but it is a crucial step towards success. Face your fears.
Start Doing
Planning is an important part of any business venture, however delaying when you have more than enough to get started is not going to get you anywhere fast. Success only comes through action.
Be Patient
Success doesn't happen overnight. Be realistic and realise that every successful person on the planet put in a lot of time and effort before they were successful, although it's not always talked about. Don't give up and persevere.
Hire Character
Skills can be taught but values and strong character cannot. Although previous experience or evidence that someone can handle the work is important, it is of much higher value to have someone who will fit your company.